15 Mar

8 SIGNATURE COCKTAILS TO SERVE AT YOUR WEDDING

You found your band. Décor, done. Flowers, check!  Planning is on track and you have earned yourself a drink. One of our favorite trends is seeing couples incorporate hand crafted signature cocktails into their wedding weekend.  Whether it's a "his and hers" at the rehearsal dinner or a "blushing bride" at brunch, this is a great way to add a personal touch to serve at your wedding!

Here are 8 signature cocktail recipes to enhance your wedding (or social event).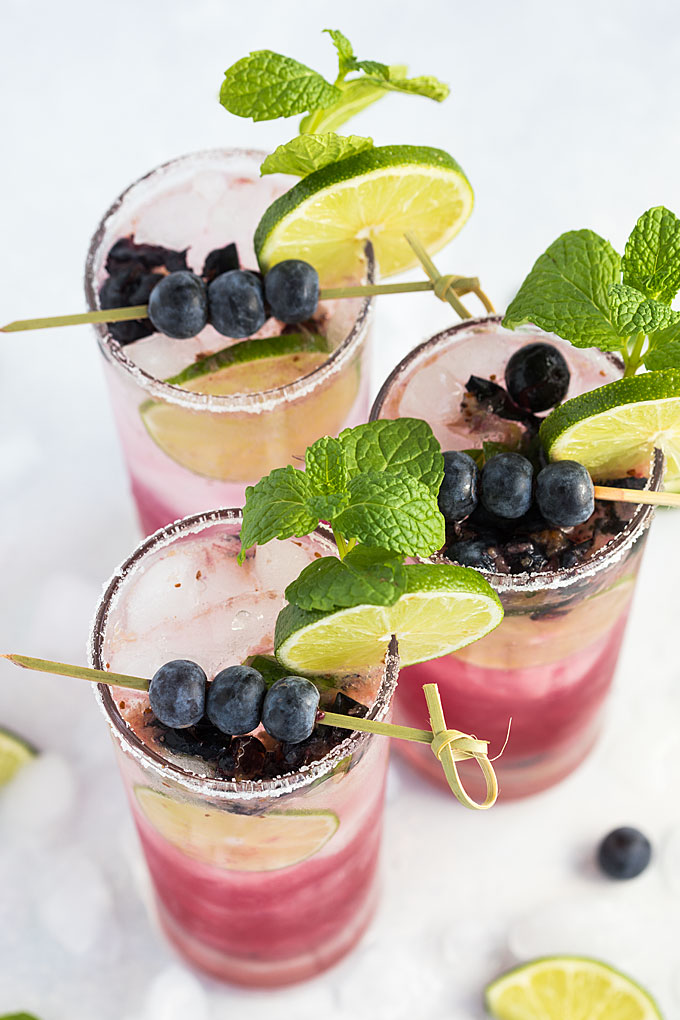 1/2 cup fresh blueberries
1–1/2 teaspoons granulated sugar (and additional sugar for rimming glass)
1 lime wedge
2 teaspoons lime juice
3 large mint leaves, torn
Club soda
1–1/2 ounces white rum
Optional mint sprigs, blueberries and lime wheels, for garnish
Rub lime wedge over rim of glass and dip in sugar to coat.
Place blueberries, sugar, lime juice and mint leaves in a cocktail shaker.  Muddle, using a muddler or the handle of a wooden spoon.
Add white rum and 1 cup of ice.  Shake vigorously and pour into glass.  Top with club soda.
Garnish with mint sprigs, blueberries and lime wheels, if desired.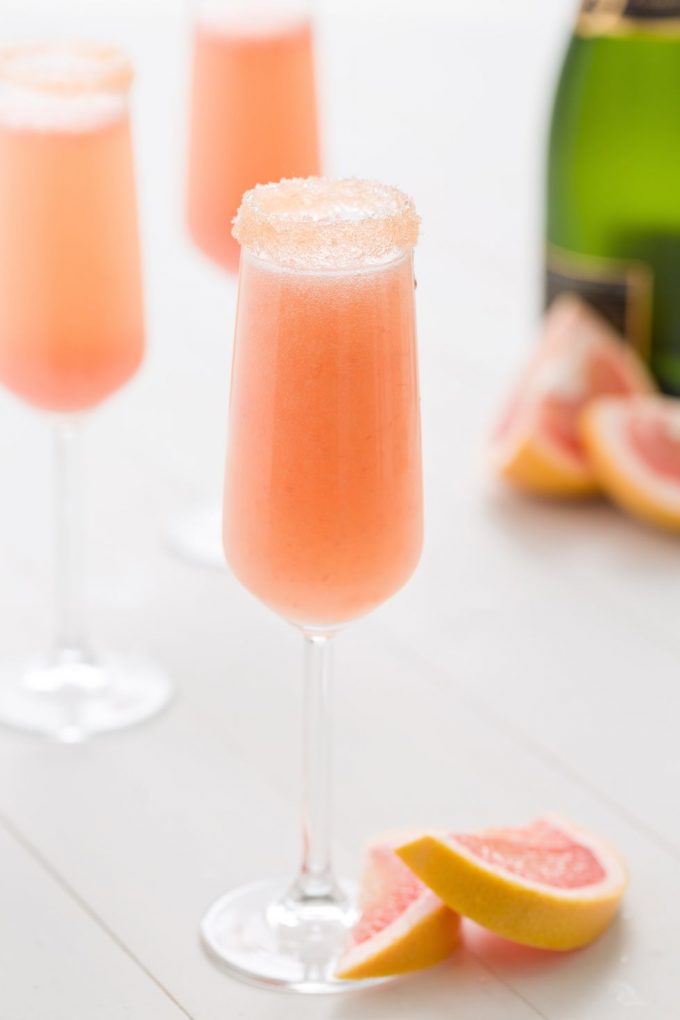 Pink sanding sugar, for rims
1/2 c. grapefruit juice
1 bottle champagne
In a small bowl, add pink sanding sugar.
Dip champagne flutes in water to wet the rim, then dip in sanding sugar.
Add grapefruit juice and top off with champagne.
3.  Bourbon Sweet Peach Tea
2 ounces bourbon
2 ounces peach preserves
1 ounce fresh lemon juice
Dash of Aperol
Sweet tea, to top
Sprig of thyme, to garnish
Lemon round, to garnish
Mix the bourbon, peach preserves, Aperol, and lemon juice over ice and shake.
Top with a generous amount of sweet tea and garnish with fresh thyme and a lemon round.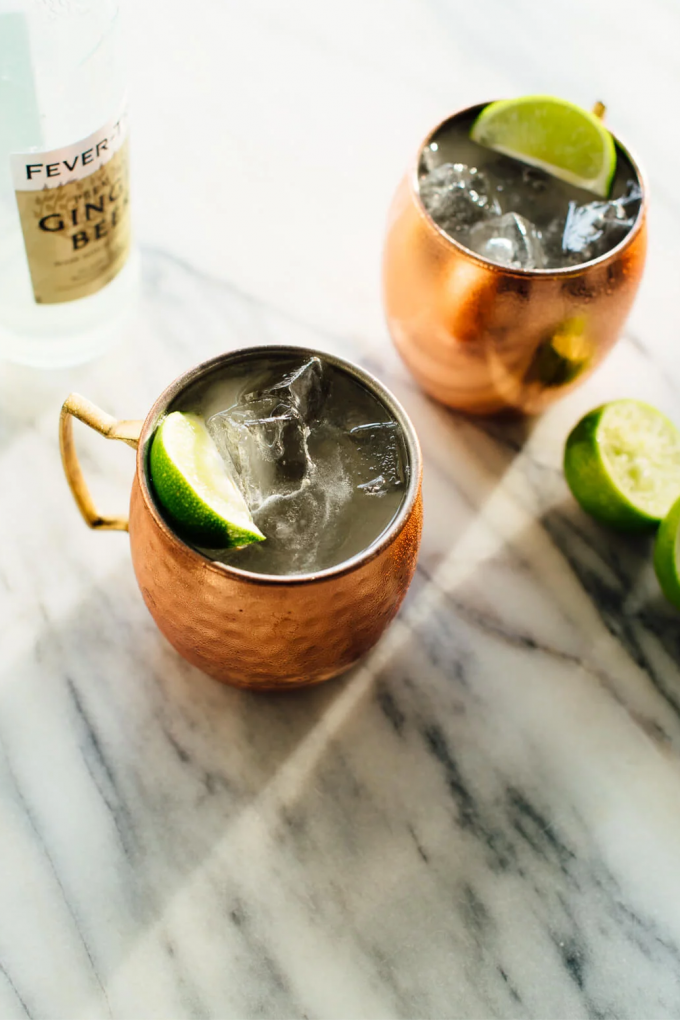 2 ounces vodka
½ ounce fresh lime juice (about ½ medium lime)
4 ounces ginger beer
Lime wedge, for garnish
Fill a copper mug or similarly sized glass with ice.
Pour in the vodka and lime juice.
Fill the glass with ginger beer and gently swirl it with a spoon once to mix.
Garnish with a lime wedge, and enjoy!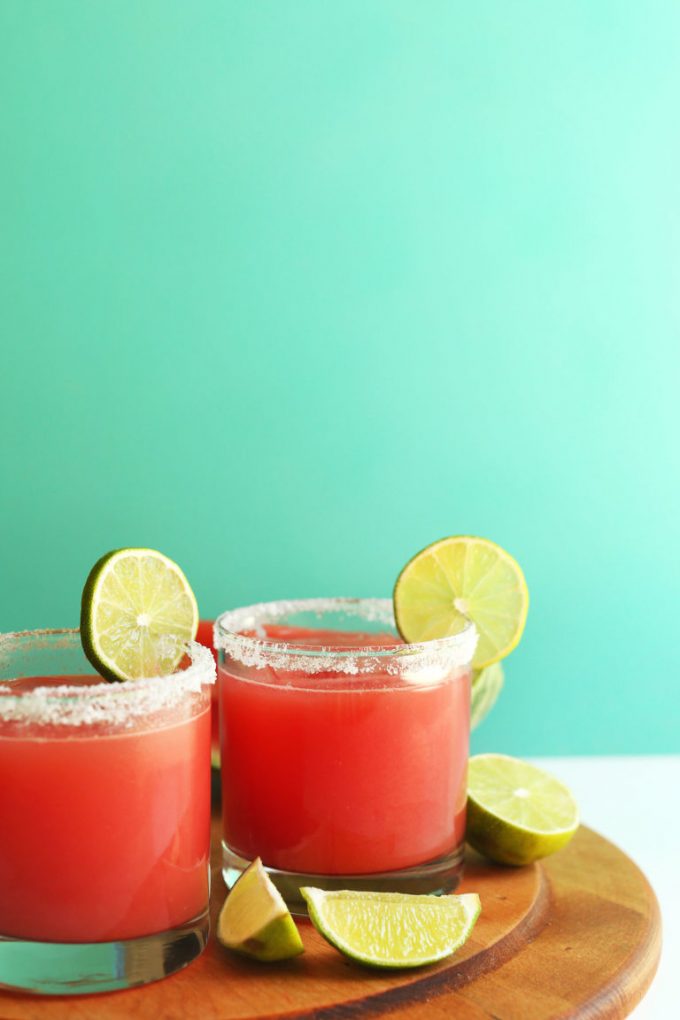 1 1/4 cups watermelon juice (1 small ripe watermelon yields – 3-5 cups juice)
2 1/2 tbsp. lime juice
5 tbsp. silver tequila (5 tbsp. = 2 1/2 ounces)
Sea salt (optional for lining rim)
Pack a large blender full of cubed ripe watermelon (with or without seeds) and blend until you have a juice. One small watermelon should yield roughly 3-5 cups (720-1200 ml), so you will have leftover juice (as original recipe is written) for extra margaritas. You can choose to strain the juice through a fine mesh strainer to remove any seeds or pulp, but I didn't find it necessary.
To make margaritas, add watermelon juice, lime juice, tequila and a handful of ice to a cocktail shaker and shake vigorously to combine. Sample a small amount and adjust flavor as needed, adding more watermelon juice for sweetness, lime juice for acidity, or tequila for booziness.
Line the rim of two serving glasses with lime juice and sea salt (optional).
Add ice and pour over margaritas.
1 part Mango Rum
1 part pineapple juice
1 part soda water
Dash of Blue Curacao
Sugar for the rim
First sugar the rim of each glass by dipping the rim in either lemon or lime juice and then into sanding sugar.
In a shaker with ice; combine the rum, pineapple juice and blue Curacao and shake.
Pour the mixture into and ice filled glass.
Fill the rest of the glass with soda water.
3 ounces prosecco
2 ounces Aperol
1 ounce soda water
Orange slice, for garnish
Combine all ingredients in a wine glass with ice and stir.
Garnish with half an orange slice.
2 oz vodka
Rosé (sparkling)
1 oz lime juice
1 oz cranberry juice
Lime wheels for garnish
In a cocktail shaker filled with ice, combine the vodka and fruit juices.
Strain into a martini glass and top with rosè.
Garnish with a lime wheel.